Contact Info

email : samanthamariaespinoza@gmail.com
instagram : @xoc.hitl

Her Quick Bio

Samantha Maria Xochitl Espinoza is a Chicanx artist coming from a Mexican and Salvadoran family. She grew up in L.A and in Denver, CO and loves being a Libra. She references living in between worlds, identities, and homes as a marker of her queer, Chicanx experience. Her work reveals her historical and personal traumas as openings for wider conversations on racialized, gendered, sexual and capitalist oppressions. Her work is meant as a gift to fellow brown womxn in the hopes that they will see parts of themselves reflected or whispered within her work. She is a youth educator, organizer, daughter, sister and falls in love frequently.

Her Formal Artist Statement

Storytelling is one of the ways oppressed, marginalized, and ignored people share their realities. I examine what stories are passed on and the power in recounting of one's narrative through printmaking, textiles, video work, and writing. My own fractured history as a Salvadorena, Mexicana, Chicanx-identified person existing in the United States provides the basis of sensitivity in my work. My work takes up space and acts as a form of resistance, similar to that of the brown body. Often, I reference historical trauma, brown queerness, and treatment of brown people in the United States. Our stories serve as evidence of prejudice and empowerment, the passing on of emotions. Through excavating the layers of my stories that make up my reality, my printwork archives the tender components of being a marginalized family, community, and self. My passing of story to you is an act of survival despite violence inflicted on my past lives. Witnessing my work, you interact with my past and present families. You are experiencing restricted and oppressed narratives of my own community, and I ask you to question the construction of your history.
︎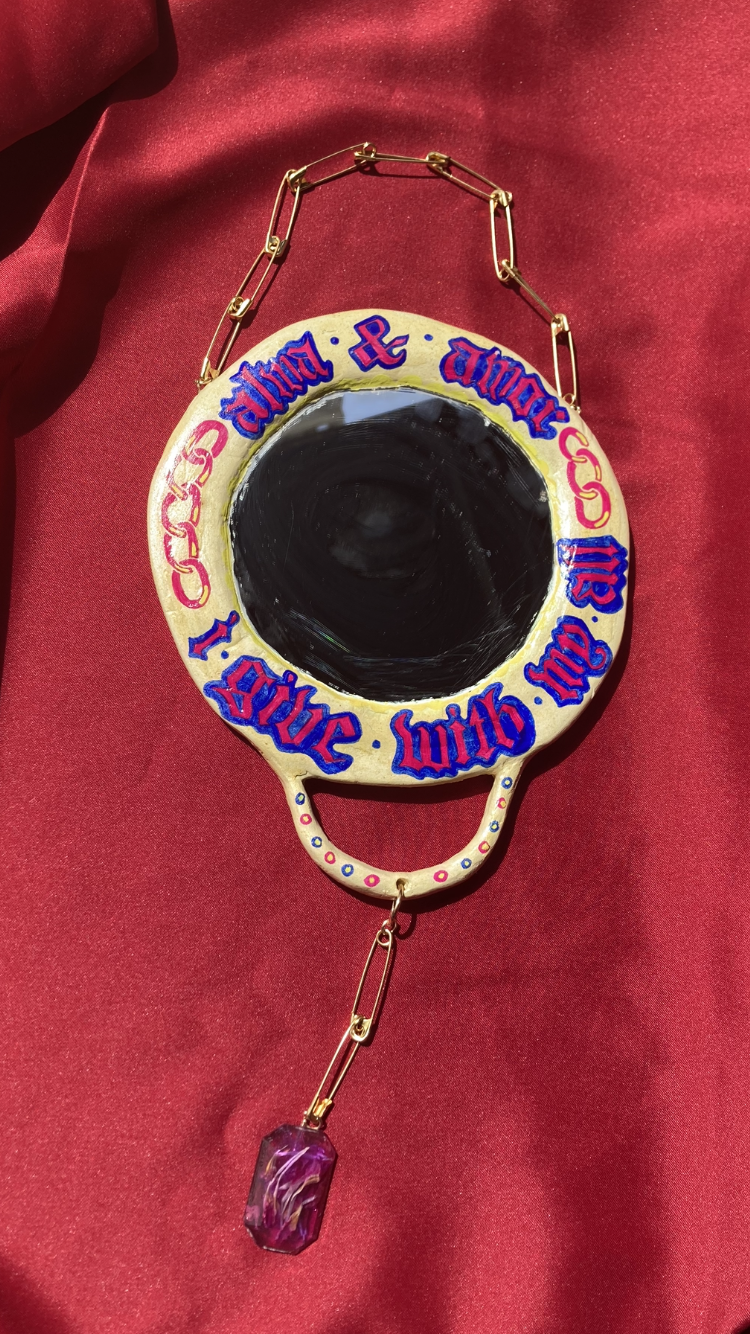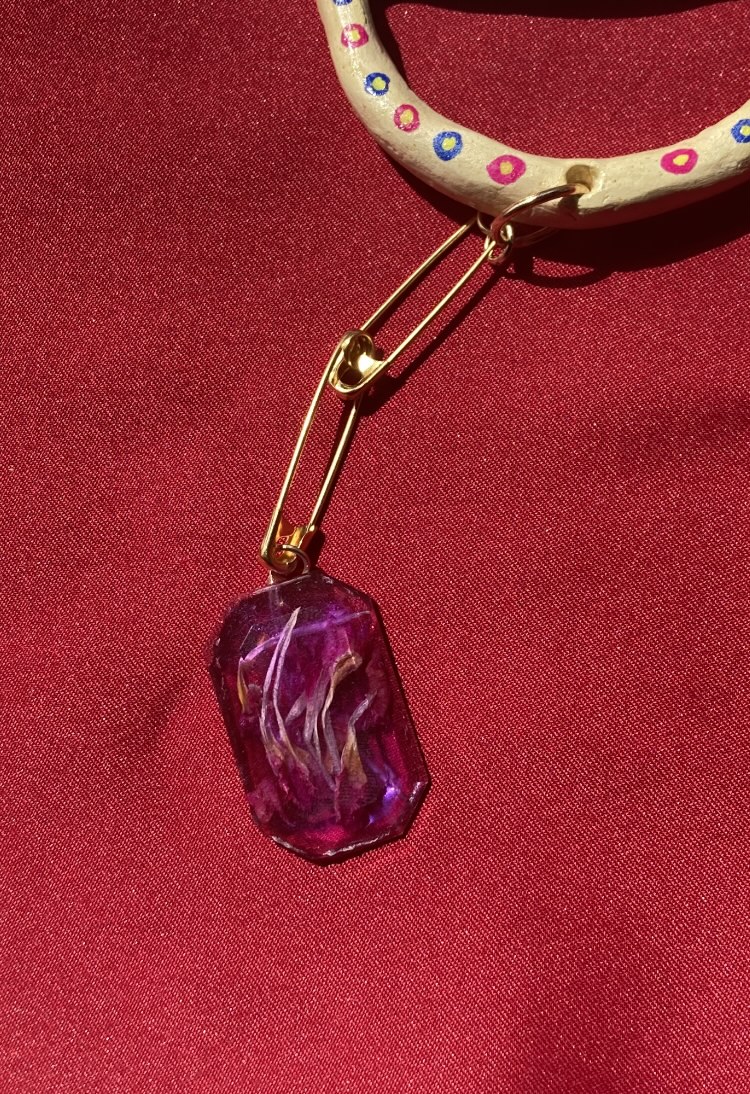 Alma & Amor Mirror
8 x 8 inches
Handpainted mirror with goauche, resin charm with encased flower petals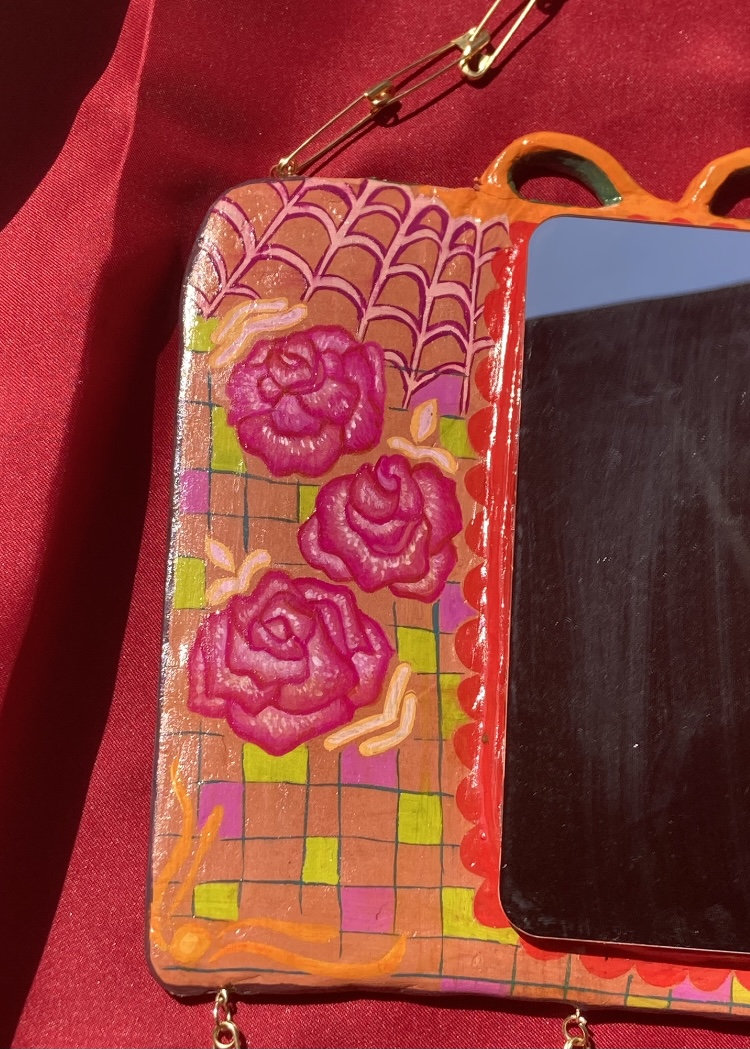 Araña Mirror
9 x 10 inches
Handpainted with acrylic and gouache, resin charms with encased
flower petals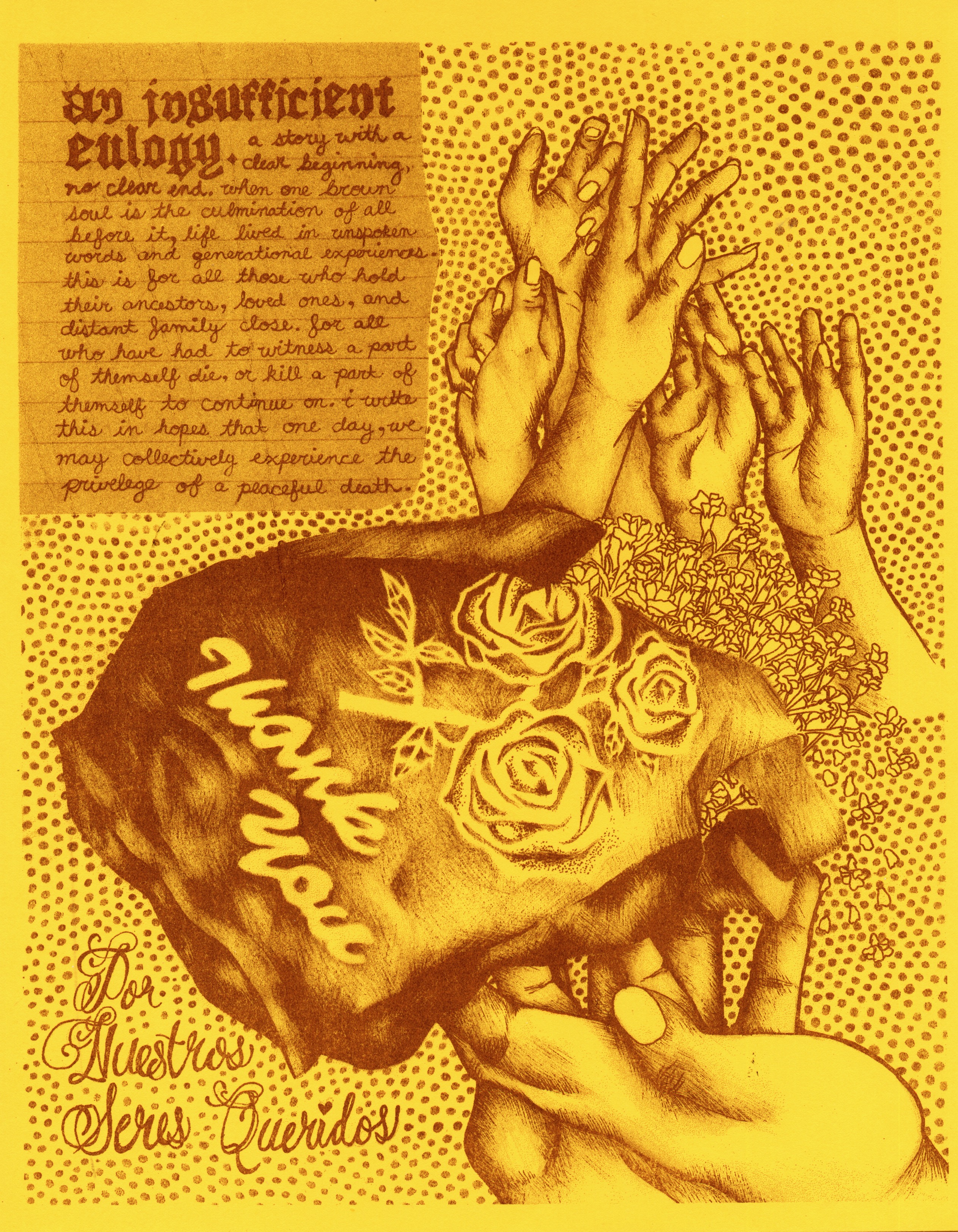 An Insufficien Eulogy
January 2021
Text from left to right, "An Insufficient Eulogy. a story
with a clear beginning, no clear end. when one brown soul
is the culmination of all before it, life lived in unspoken
words and generational experiences. this is for all those
who hold their ancestors, loved ones, and distant family
close. for all who have had to witness a part of themself
die, or kill a part of themself to continue on. i write this
in hopes that one day, we may collectively experience the
privelege of a peaceful death."




Bookmark for Bandung Books
June 2021
Created for Bandung Books (Eastside Arts Alliance) to embody
unity across communities. Risograph, 9x2.5 inches



it's been 979 and i am forgetting you (even as i begin this, i am crying deeply)
September 2019
a zine written post almost 3 years of being out of an abusive relationships. 12 pages of risograph prints.






Altar Centerfold
October 2019
Risograph on Creme Cardstock, 8.5 x 11 in.,
Centerfold of a Risograph Zine




Unhinged
October 2019
Risograph on 8.5 x 11 inch found paper
i look into myself and see a deep anger / i have no need to apologize for it / i see her as my tongue unhinged, reclaiming space.







Rosas
December 2019
Woodcut Relief on Cotton Muslin, 2.5x2.5 ft dyed with Hibiscus Flower




Asking
June 2018

Relief Print on BFK Paper


"How Do I Ask The World To Love Me Properly In Its Chao", one linocut print to emerge from the Queer Ancestors Project at SOMArts, San Francisco, CA.
Inside
July 2018
Relief Print on BFK

linocut print from Queer Ancestors Project at SOMArts, San Francisco, CA.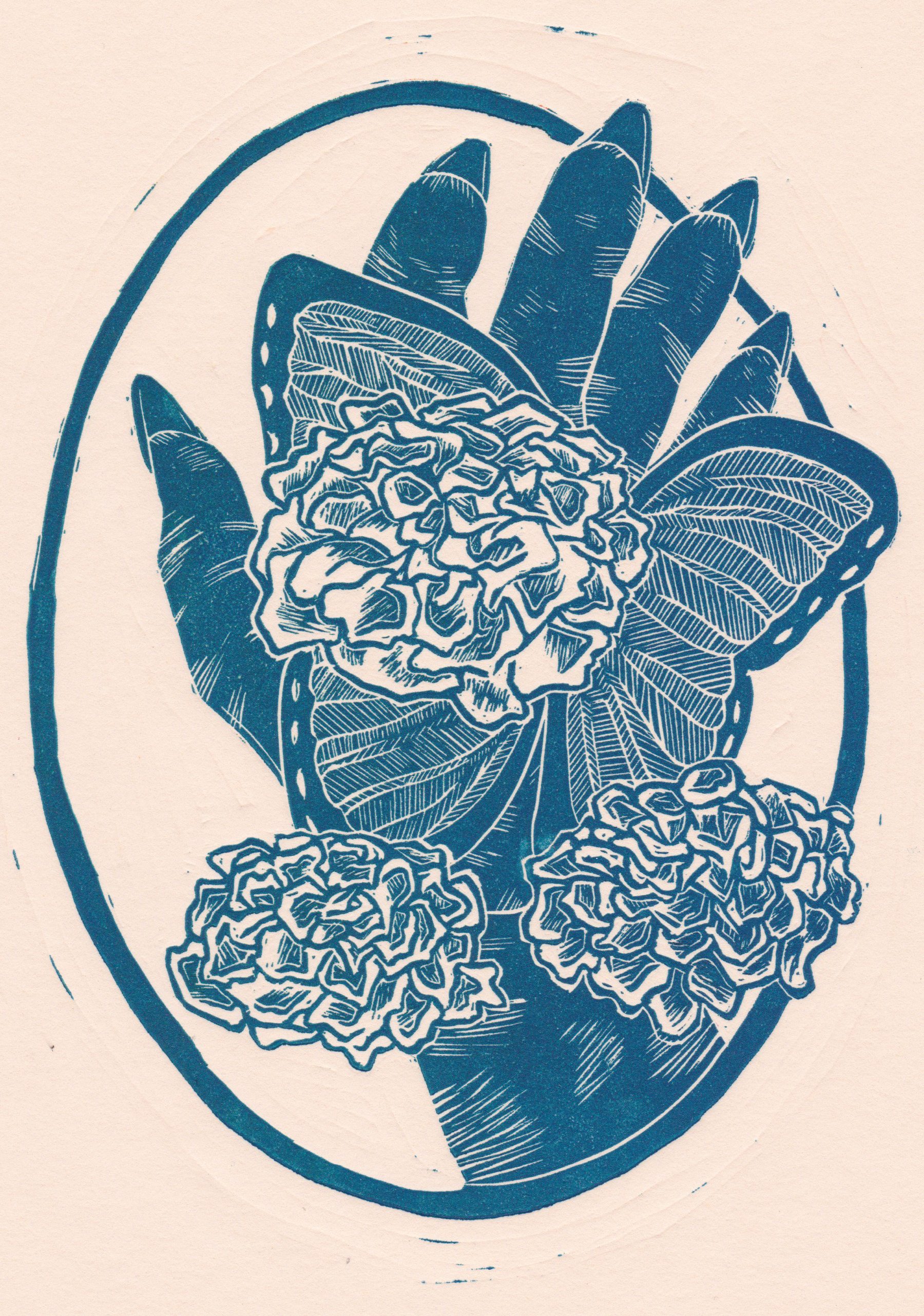 Searching
June 2018
Relief print on BFK

linocut print from Queer Ancestors Project at SOMArts, San Francisco, CA.








altar room
october 2019
collaborative altar room with Lukaza Branfmann-Verissimo, Malaya Tuyay, Sequoya Akosua Lee and multiple other guest artists. this altar room is dedicated to our past, present and futures.



quilted letters for my past
october 2019
woodcut relief roses, sewn together to create larger quilt of found, silky fabric. approx 5 ft x 5 ft. framed letters written to my mother, father, abuelito and abuelita with my secret thoughts / things i wish i could fully communicate.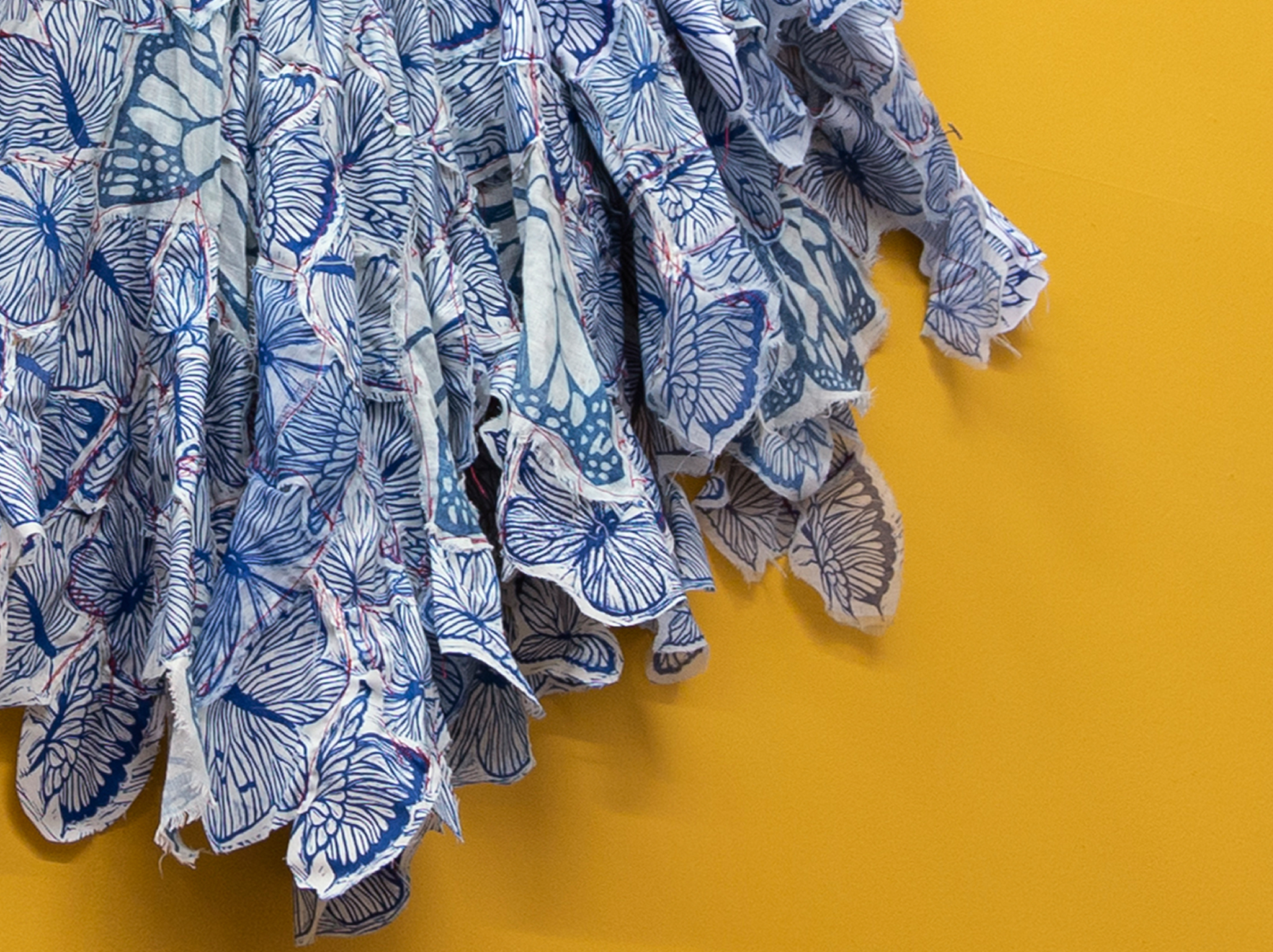 Vestido de mariposas
october 2019
over 600 linocut butterflies on found white silk, silk organza, and various other white fabrics. fits to artist, featured in her video performance "Mariposa."




collaborative moment
textiles, painting, relief print
october 2019

a collaborative wall space between Lukaza Branfman-Verissimo (painting in upper hand corner), Sequoya Akosua Lee (painting on butterfly print), and Malaya Tuyay (relief-print of body).




Quilt for my Heart
(2018)
20 ft. x 25 ft.
Reads from left to right: I love my brown body lagrimas dirt alma pain madres kisses my mothers soul the unknown the ones gone too soon all enveloping like dirt water blood my anger is powerful beautiful this is a love letter to you.





Mariposa. Video performance, 2019.










diary entry part i. video experiment, 2016.









first video project interviewing yanira duarte. 2015.







first video work with mother and father, UCLA Apartments off of Sepulveda, Age 8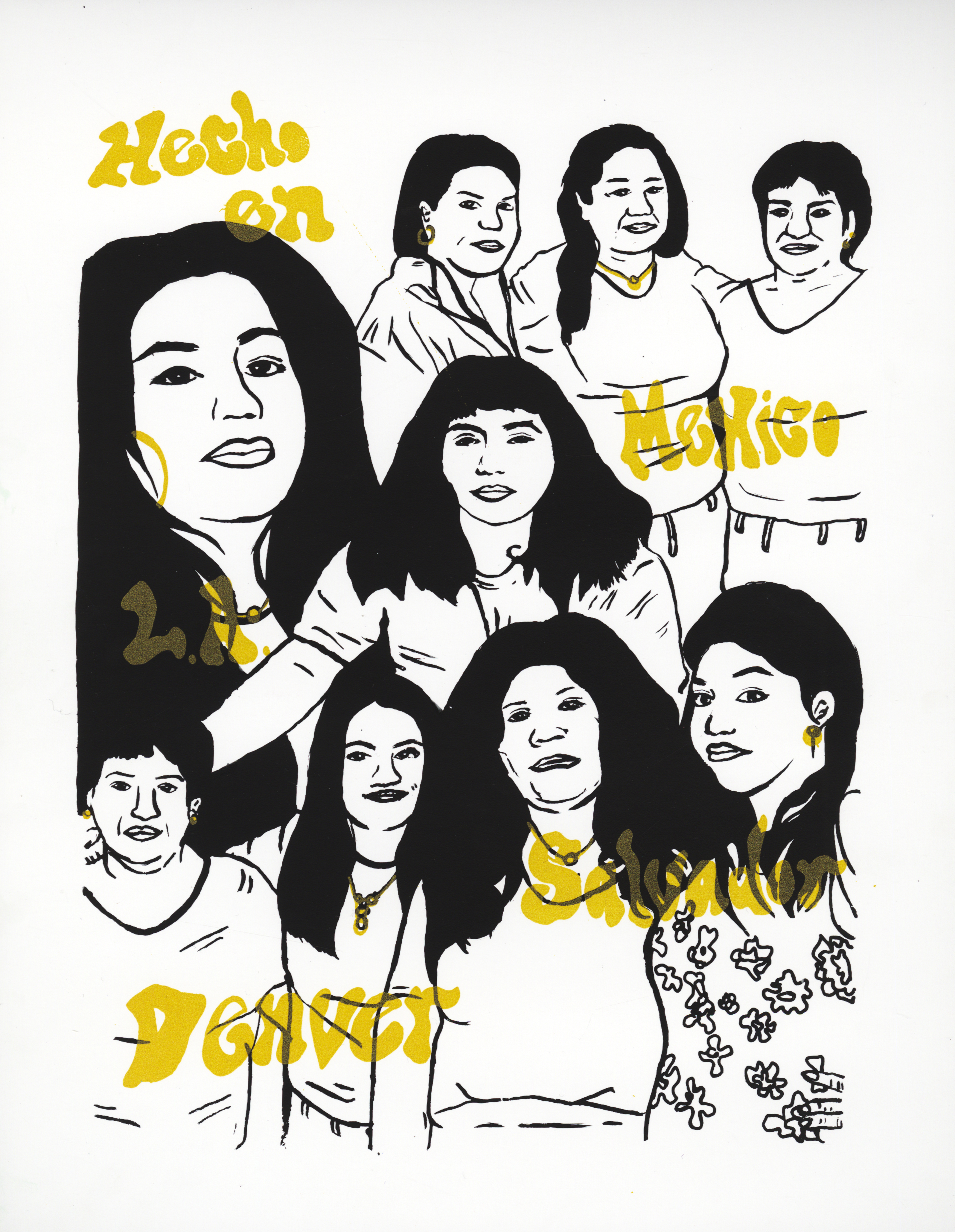 Family Portrait (linework with gold)
11 x 14 in.
Bristol Paper

Family portrait of womxn in my family, gold overlay.



Show Card for Manzanilla
2018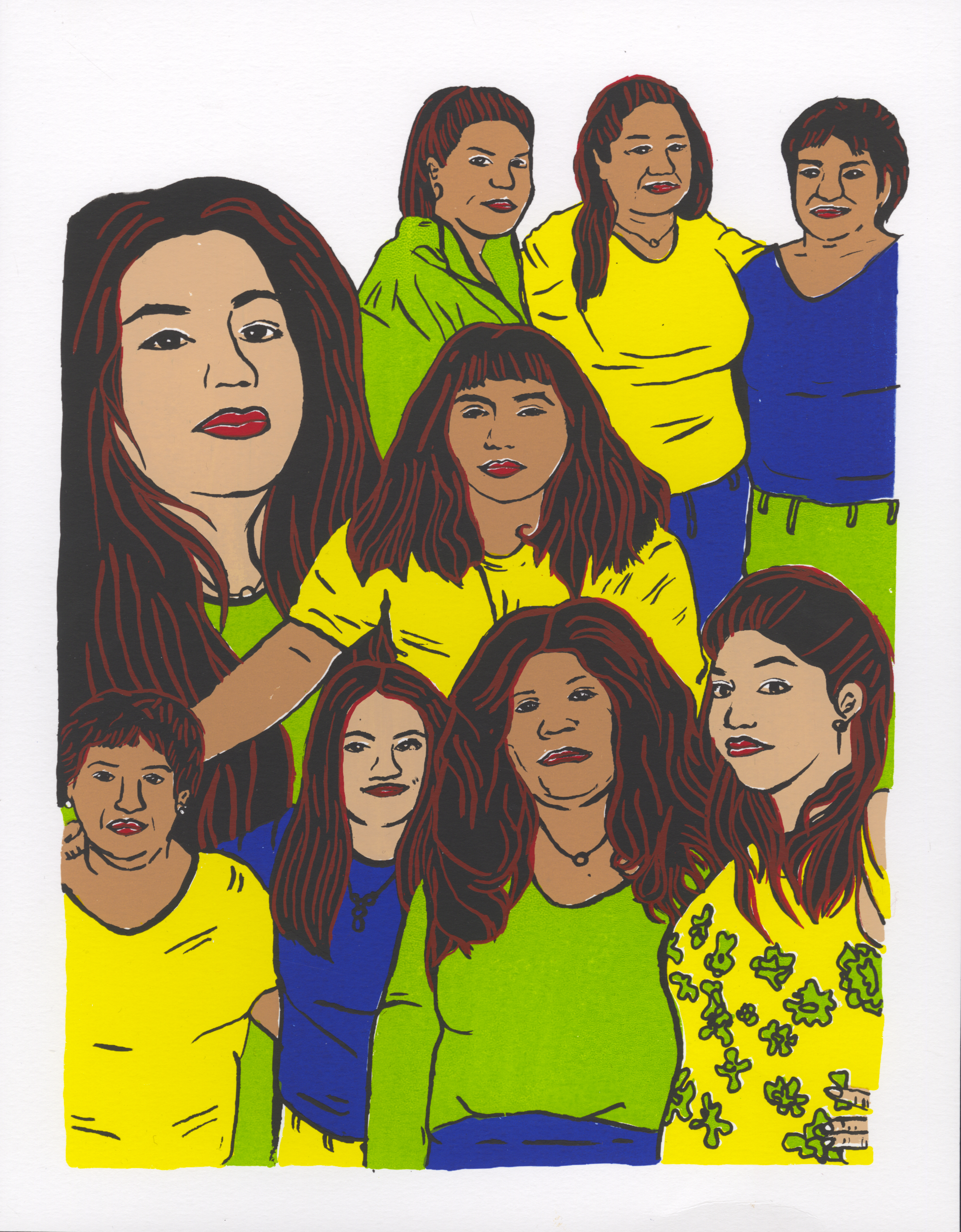 Family Portrait (full color with gold detail)
10.75 x 14 inches
Bristol Paper

Screenprint of womxn in my family, overlaid with our families origins.




Most recent poster for Students of Color Coalition at CCA. 2015


tlatelolco / ayotzinapa
Screeprints on Bristol
15 x 18 inches
(2014)

two violences in parallel with one another
violence enacted on brown, radical minds and bodies

how much farther have we really come when young protestors are still silenced and killed by the same hands?



yanira la virgen
screenprint and monotype
5 x 6 ft.

part of a large scale representation of my family.






Sopa
Monotype on BFK
11 x 13 inches
2017

sopa de letra from the past
possble reasons for swallowing words



Mom's Cabinet
monotype on BFK
11 x 13 inches
2017

remembering mother's home in the west side reminiscing on her tools and comparing my empty kitchen blurring parts of her items.





Fragmented
monotype
24 x 28 inches
2016

fragments on memories, puzzle pieces, more stolen photos from dad's basement photo albums. sometimes i mistake him for my tios and primos but i don't always know who they are.





Retracing
etchings on BFK and Reeves
9x12 inches
2014

an idea that we may understand the touch of love, reconfiguring and rewiring vision, the thought, of care. how many times and colors and moments will i remember from you?




Within Intimacy
2018
Drawing
"i crave a normalcy within love that i have not touched - to be loved and held and respected for lived experiences. i believe in the accumulation of wishing and wanting throughout generations. my body was never really my own."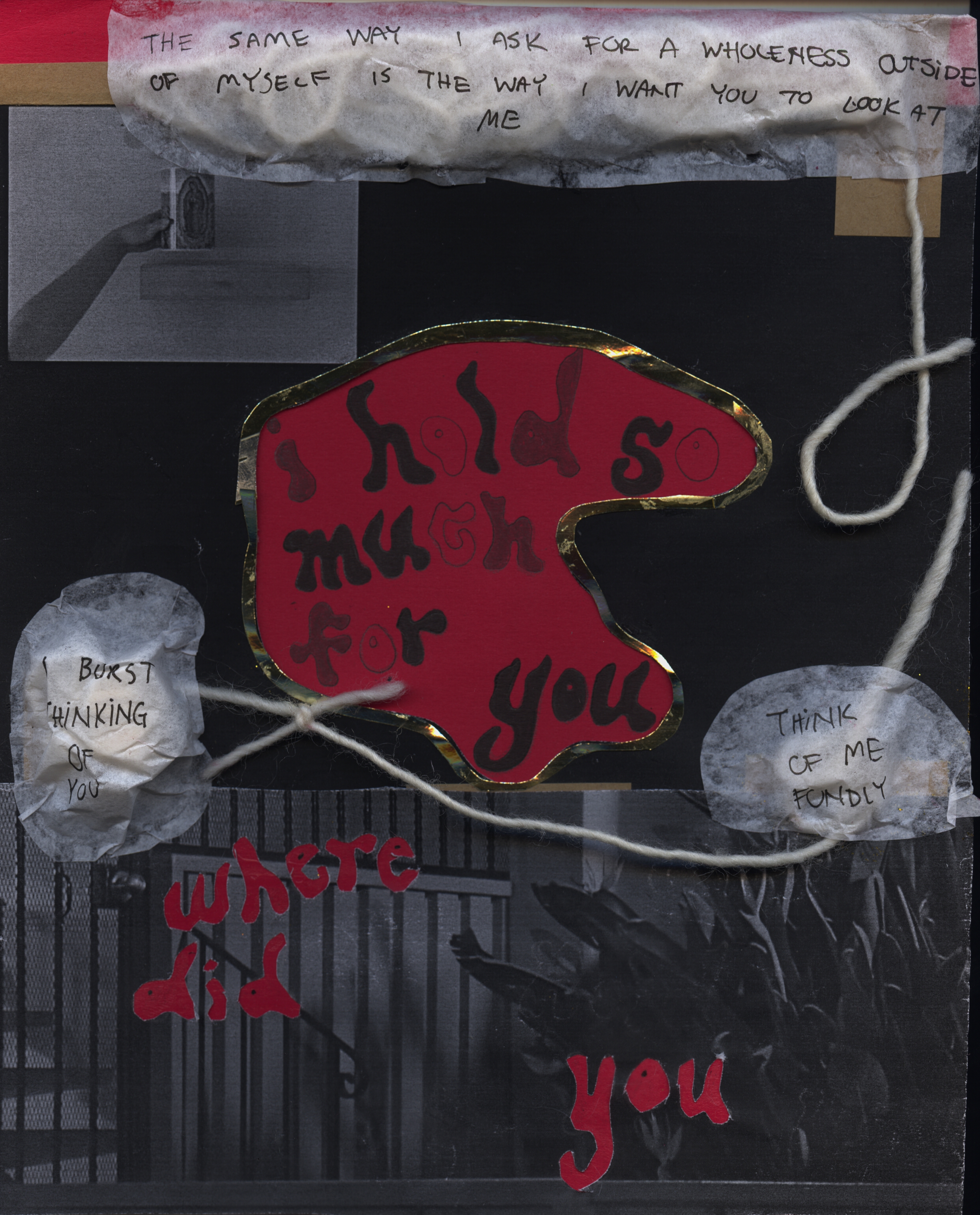 A letter for the signs
collage and monotype, drawing
2018

A brief letter for all the signs and the significant moments I was able to experience with them.



Orange Book
4 x 5 inches
2016

a collection of poetry on orange bristol paper, typewritten. featured in EM Wolfman Quarterly (Issue 1).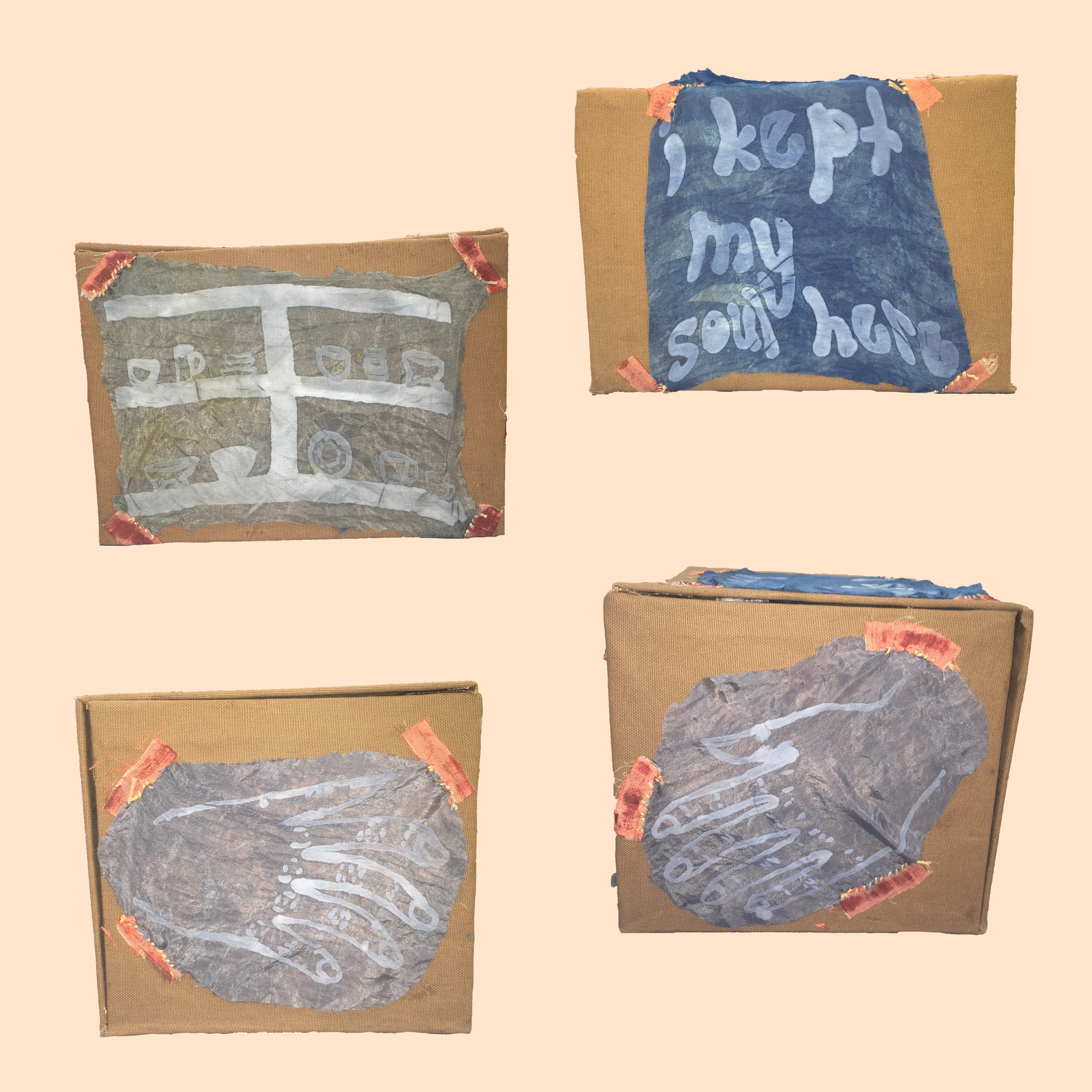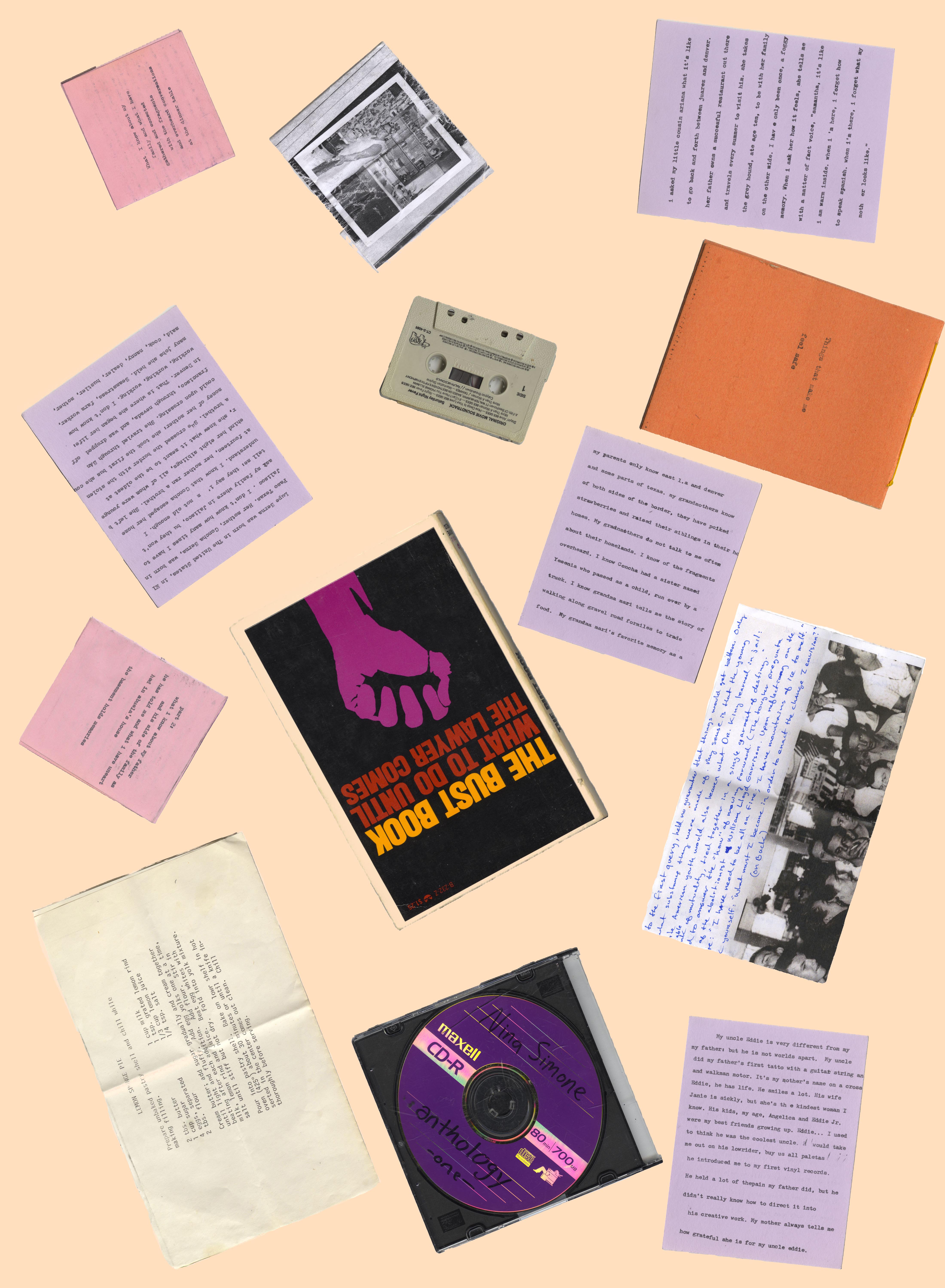 A space to heal
handmade box with monotype and artist's items
2017
a box holding family secrets and stories and bits and pieces of what I can remember. filled with letters from dad, copal, pottery from mexico, the bust book, nina simone cd, saturday night fever cassette



agua leche pink
monotype accoridon book
2017

on the first shower i took after getting out of an abusive relationship




anger
letterpress on orange cardstock
5 x 4 inches
2016
dedicated to everyone who extends a helping to appear sincere. to those who give fale comfort only to themselves, we see through you.



El Tamal
etching and aquatint
8 x 11 inches
2016
My abuelita Lupe Serna's hands, making tamales for christmas back in 2010. a lineage in maiz.




Abuela's Kitchen
6 x 10 inches
2016
other collections from lupe's dinner table (angel jesus perez calls this my fried chicken print)







Kitchen Space
Etching and aquatint
8 x 11 inches
2016

missing this table on the corner of Downing St. in Five Points, Denver. My abuela's house, where food never seemed to run out for me. the little things she would leave out for me.





Concha in the 80's
etching
8 x 8 inches
2016

My bisabuela concha posing for a picture.